The Clock on the NaNoWriMo Wall says there are 11 Days, 15 Hours, 23 Minutes, and some change, before the Insanity Begins and the Crazy Train pulls out of the station.  I've my ticket, more or less, and I'm looking for a seat–maybe next to someone who won't look over my shoulder every two minutes and ask me what I'm working on.
If you wander into the NaNoWriMo groups on Facebook, there are the normal questions:  are you writing this year?  Do you have any idea about what you're going to write?  Are you looking for buddies?  And, the Grand Old Question, so to speak:  are you doing any planing for your novel, or are you just winging it?
Now, I have my feelings on doing my prep work and research (which is known in the business as a Plotter, as in, "I'm plotting everything out"), so I know where I sit in these conversations.  I've said many times that I'm not big on making everything up as I go along (which is known in the business as a Pantser, as in, "I'm flying by the seat of my pants here!")–though with my last two stories, I books my tickets on Pantser Airlines, and I'm not having a bad time of it.
But for a novel?  Particularly some eye-gouging insanity for a moment in–I'm sorry, I mean Thirty Days and Nights of Literary Abandon . . . when you're getting set up for something like this, it's my opinion that you need to be like Torchwood, which is to say, ready.  'Course, we saw how that worked for them . . .
See, most people think NaNoWriMo is like this:
Pretty rock, very peaceful feelings, the numbers look as if they may have come right out of Middle Earth.  Oh, yeah, this is my serendipity.  I'm gonna rock the world with my imagination.
Then there's the reality: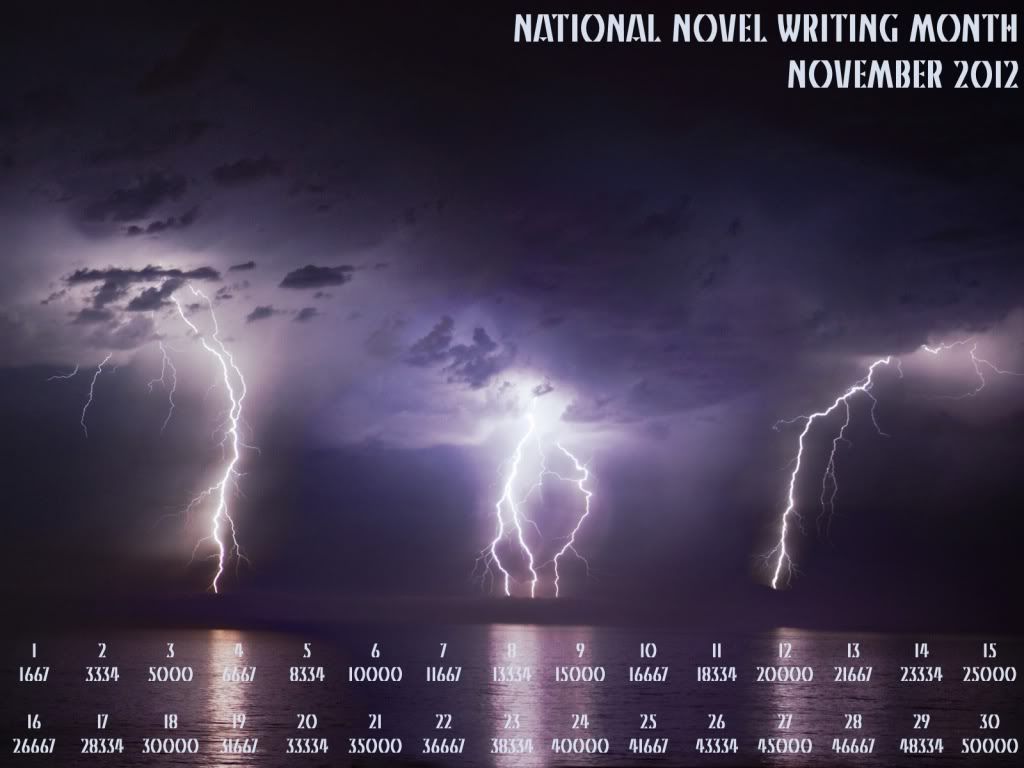 It's this living-on-the-edge of disaster, world-coming-to-an-end, ass-churning feeling that stays with you for thirty days and nights that you aren't getting you words count!
Really, either is the truth, but you can usually find a middle ground that will make you feel better about what you're going–or going to do, or, at the least, whine about on Facebook when you realize that you need a name for a middle character who seems to have popped up out of nowhere, and now what are you going to do?
I have several friends who are into making everything up as they go along.  I don't mind, because that's them, and I'm me, and everyone has their own way to rock their writing world.  They know I prep like a crazy person, but I don't get all up in their face about it, because they know how they work, and how I work.  You do what you do to get the words out.
But they are never the sort of people who are Pantsers on Fire–
Allow me to explain.
Even people I know who Pants get ready for NaNoWriMo.  It's a novel, people, and to just whip things out and start flinging them about–well, that might work in a public bathroom, but it tends to get you into trouble when you're trying to write a novel that suppose to be coherent.  You know about coherent, right?  You want something you can read that won't require you having already been driven mad by the Necronomincon.
There are always folks, however, who won't prep even if their life depended upon it.  They'll have a million excuses:  I don't want to feel inhibited; I don't want to feel as if I'm working; I've too many plot bunnies in my head–in which case you need to call Animal Control, or get better meds.  Or the one comment I've seen pop up here and there:  too much plotting and planning turns your work unimaginative and formulaic, and I'm not the sort of person who wants to write that!
And good for you!  Don't worry, I'll be watching the group on Saturday, 3 November, to see if you're a member of Occupy NaNoWriMo Help!, looking for the name of a character who is going to become your bad guy's second cousin's forth nephew's college roommate, and asking for someone to help you out.  And this year, I might just help people out.
Seriously, you write a novel at your own risk.  It's not an easy task; I know, this will end up being the fifth novel I've either written in the last year, with four finished, and two out on The Submission Trail.  You want to wing it for fifty thousand words in thirty day?  Cool, baby:  go for it.  I would be the last person who would tell you not to give it a try.
Though, when you wake up one morning and find your Muse holding a Glock 19 to the back of your head (much like the illustration to the right), mumbling in a Joker-like voice that there will be two thousand words, or your brains, on the monitor before the sun sets, and you're stuck for a town, any town, in the middle of Empty Cornfield, Nebraska, I might not throw out a name for you to use, but there's a good chance I'll be shaking my head a little, thinking, "There, for the name of a town in the middle of nowhere, a novel was lost."
Who said NaNoWriMo isn't a spectator sport?